Cross-country skiing
Bessans, the Nordic capital of the Alps, is a benchmark for cross-country skiing and biathlon. Situated on a high-altitude plateau, Bessans offers a multitude of winter sports activities.
Labelled Nordic France and situated on a vast plateau at an altitude of 1750 metres, Bessans is the Nordic capital of the Alps. The 1st resort in France to open thanks to snowfarming (opening every year in November!), Bessans offers 133 km of groomed runs. All groomed in alternating and skating, the slopes let you enjoy long glides and get the right sensations from the very first days of skiing. So it goes without saying that at Bessans you'll be practicing the resort's number 1 activity: cross-country skiing!
To perfect your style, take advantage of ski lessons given by French Ski School instructors.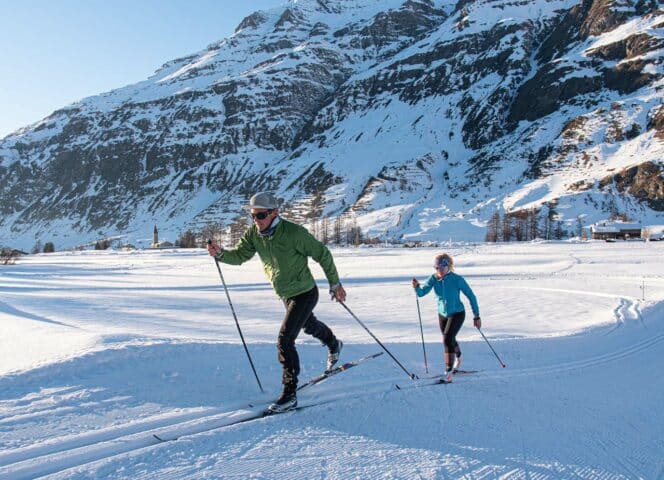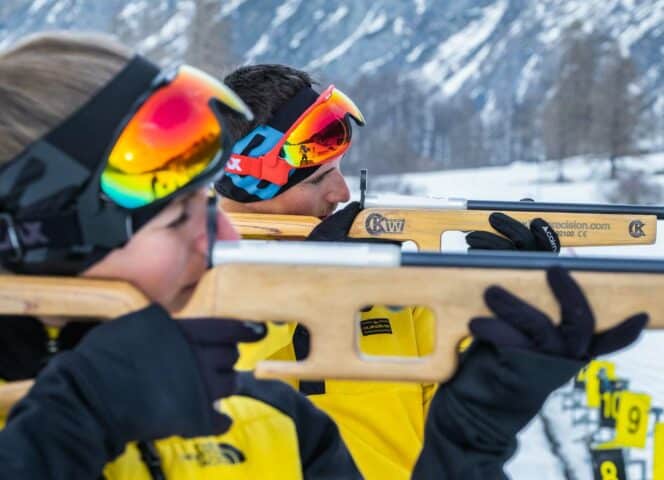 Experience biathlon
The Bessans international biathlon stadium is the training ground for the best biathletes from France and abroad, providing perfect conditions for learning and perfecting biathlon.
Combining precision and endurance, it's the sport to practice if you want to be in harmony with your body and your mind. You can sample the pleasures of this discipline at one of our instructor-led introductory courses. The program includes shooting at 10 meters with an air rifle and technique... It's the perfect way to become a real biathlete!
Test the icefall
In Bessans, you can easily try out a 100% unusual high-mountain activity: ice climbing.
In Bessans and the Haute Maurienne Vanoise region, icefalls are part of the landscape, offering a grandiose natural spectacle. In most cases, before climbing these frozen waterfalls, you'll need to take an approach walk. But not in Bessans! At Rocher des Barmettes, right next to the biathlon stadium, the waterfall is ultra-accessible. And in every sense of the word. Located in the heart of the Bessans Nordic plateau, the site is suitable for beginners and experts alike. It's the ideal place to discover ice climbing by day or night, and enjoy night-time demonstrations and initiations on the frosted and illuminated waterfall. Helmet, crampons, ice axes, harness: you're all set to climb on water. Climbing is easy enough: "just" push your ice axes and crampons in 1 or 2 cm, and you're ready to go. Easier said than done: at first, you "tap" hard for fear that the ice axes won't hold, and you get tired. But... technique comes quickly and the experience is unforgettable.
Beginner and advanced courses are by the half-day, led by mountain guides who love to share their passion.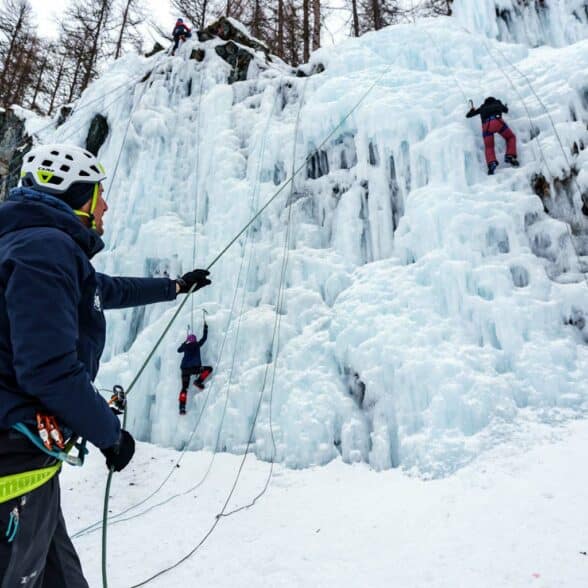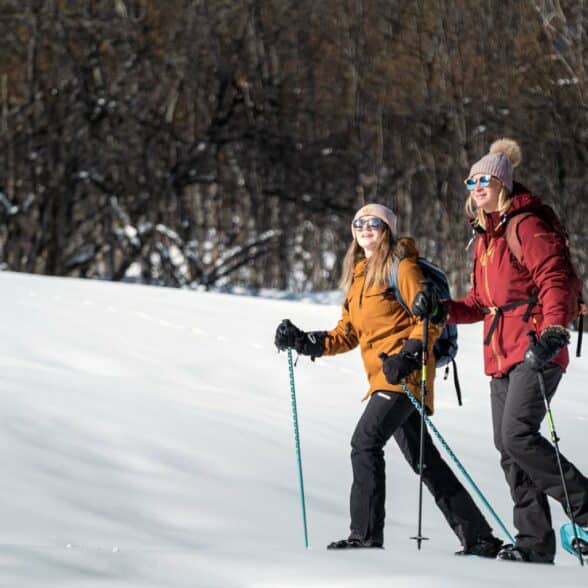 Recharge your batteries on a snowshoe outing...
in the heart of the Vanoise National Park
Wild, unspoilt nature, exceptional sites and snow-covered landscapes as far as the eye can see: Bessans and the Haute Maurienne Vanoise are an exceptional winter destination for hiking and mountaineering enthusiasts.
Alone or accompanied, day or night, this high-altitude valley bordered by Italy and the Vanoise National Park offers snowshoe hikes to delight your desire for adventure and experience.
Snowshoes are the ideal way to discreetly observe winter wildlife and discover hamlets and landscapes.
Embracing cultural heritage
Beneath the benevolent gaze of the Charbonnel glacier, in a remarkable mountain setting, the hamlets of Bessans, with their typical architecture, are an invitation to an ever-renewed journey. Enchanting sites like La Goulaz, with its cluster of houses at the entrance to the Avérole valley, can be discovered on cross-country skis or snowshoes.
Take advantage of your stay in Bessans to discover its religious heritage, with the splendid Saint Antoine chapel, a veritable "BD of the Middle Ages", and let yourself be told the local legends and stories. Particularly those about the devil. Bessans is famous for its wood-carved devils, which can be seen at fountains, shops, schools and houses. The story goes that, in 1857, a dispute between the Bessans cantors' brotherhood and the village priest was "resolved" thanks to a wooden sculpture of the devil holding a priest under one arm. Since then, the tradition has continued!
In the center of the village: Le Chapoteur: sculpture workshop